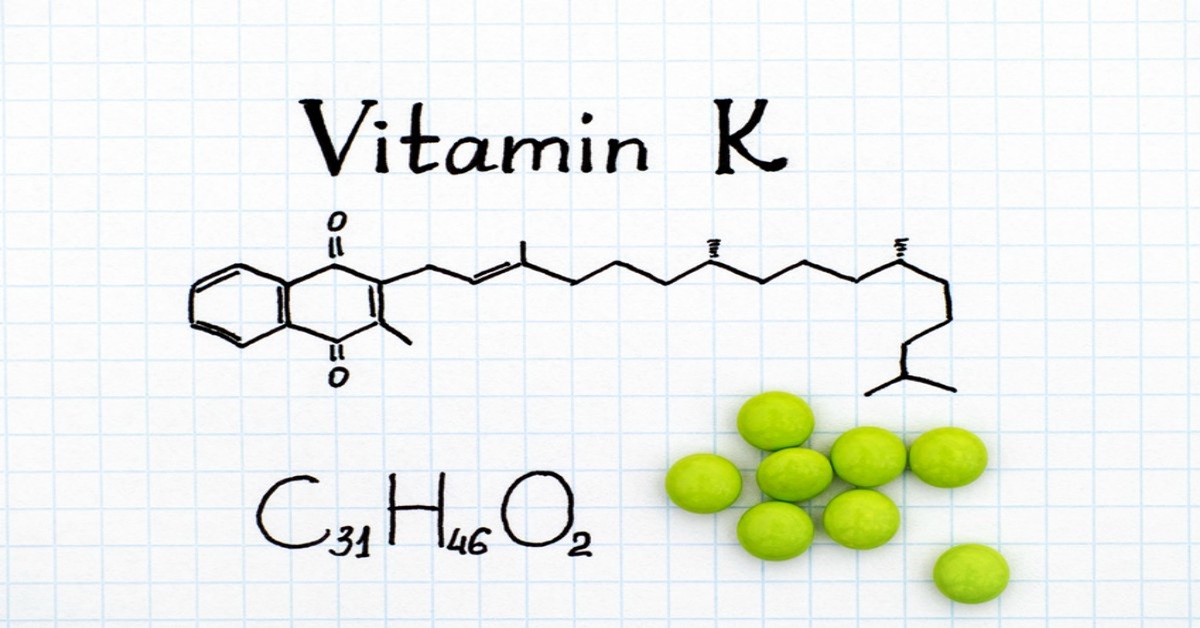 The role of Vitamin K1 and Vitamin K2
For healthier teeth, eating more vitamin K is crucial. Unfortunately, the vitamin K group is one of the most important yet misunderstood nutrient groups in medicine today, and many people remain unaware of its benefits.
What is vitamin K?
Vitamin K isn't one vitamin, but a group of structurally similar molecules. These molecules belong to a chemical family called quinones.
We'll cover the different roles of vitamin K in the body in this article here.
What does Vitamin K mean?
The confusion about Vitamin K starts with the very name itself. As we've seen, Vitamin K doesn't refer to one particular nutrient, but a group of molecules. They are named after the Danish term 'Koagulation', which refers to their role in blood clotting. But as we'll find out, this is mainly assigned to Vitamin K1.
Is Potassium Vitamin K?
People often confuse Vitamin K with potassium. This is because K is the chemical symbol for potassium on the periodic table of elements.
Potassium is NOT Vitamin K.
What does Vitamin K do in your body?
Vitamin K is a group of fat-soluble vitamins. Broadly, they direct calcium and allow the blood to clot. But vitamin K2 has benefits for dental, periodontal, heart, hormonal, kidney, bone and brain health.
Types of Vitamin K
Now that we've established what Vitamin K is, we're going start getting more specific. The food sources, actions and benefits of the Vitamin K variations are different, so it's important to distinguish between them.
There are three types of Vitamin K:
Vitamin K1: Phylloquinones
Vitamin K2 MK-4: Menaquinone-4
Vitamin K2 MK-7: Menaquinone-7
They should probably have different names, but we're stuck with these for now! Of vital importance is that Vitamin K1 and K2 are completely different. Vitamin K2 MK-4 and MK-7 are also distinct from one another.
What's the difference between Vitamin K1 and Vitamin K2?
Before 2006, the USDA didn't even distinguish Vitamin K1 from K2 in foods. Both K1 and K2 are quinones. The difference between them is similar to the difference between monounsaturated fats and polyunsaturated fats.
Vitamin K1 is converted into K2. There appears to be two sites where conversion of K1 to K2 occurs: one in the intestine and another in certain tissues in the body.
In 2007, researchers confirmed that the body turns Vitamin K1 into Vitamin K2 via an intermediary molecule, Vitamin K3, which is made in the intestine from Vitamin K1.
However, how much K2 this produces is uncertain. We still have much to learn about the intricacies of Vitamin K2.
Phylloquinones
Vitamin K1 are called phylloquinones or phytonadiones (although phytonadione or phytomenadione are often used to describe synthetic K1 given as a treatment). It has a monounsaturated tail with four carbon groups.
Menaquinones
The Vitamin K2 group are menaquinones (MK), which have polyunsaturated tails. The tails can be of 15 different lengths, which is indicated by the following number. MK-4, for instance, has a tail of four carbon groups while MK-7 has – you've guessed it – a tail of seven carbon groups.
What does Vitamin K1 do?
Vitamin K1 prevents bleeding through the blood clotting (coagulation) cascade.
The most well-known function of Vitamin K1 in animals is as a blood clotting agent in the liver, where it forms blood clotting factors such as prothrombin (II), VII, IX and X.
We will look at food sources of Vitamin K1 in detail later, but they include:
leafy green plants like spinach
algae
certain bacteria.
In plants, vitamin K1 acts as an activator and may play a role in photosynthesis and cell messengers.
What does Vitamin K2 do?
There are up to fifteen types of menaquinones (eg. MK-9 Mk-11), but less is known about these. So we'll stick to MK-4 and MK-7.
Both MK-4 and MK-7 activate a set of proteins called GLA proteins. The reaction is called carboxylation. We say that vitamin K2 'carboxylates' proteins.
The two proteins are:
Osteocalcin (Bone-GLA protein): Responsible for laying down calcium in bones and teeth.
Matrix-GLA protein (Matrix-GLA protein): Responsible for mopping up calcium from soft tissues including the heart, kidneys, and brain.
The roles of these Vitamin-K2-dependent proteins are explored in Part III of this series.
What's the difference between vitamin K2 MK-4 and Mk-7?
As we've seen, the chemical difference between MK-4 and MK-7 is the length of their carbon chain tails. But, in nature, Vitamin K2 variants have different biological sources and somewhat different actions in the body.
All forms of dietary Vitamin K1 and Vitamin K2 MK-7 can be converted to Vitamin K2 MK-4.
In the body:
Vitamin K1 & MK-7 -> MK-4 – The conversion of K1 to K2 isn't well understood. Best evidence suggests you need to obtain Vitamin K2 MK-4 from your diet.
Vitamin K2 MK-4 – Sourced from animal products
Food sources of MK-4:
Organ meats
Grass raised dairy
Pasture raised egg yolks
Vitamin K2 MK-7 – Sourced from bacterial fermentation
Food sources of MK-7:
Hard and soft cheeses
Natto
What do Vitamin K2 MK-4 and MK-7 do?
The two types of vitamin K2 have similar but different roles, which are concerned with the transport of fat-soluble vitamins in the body.
When you eat vitamin K2 variants, they're absorbed by your intestine and then travel through the body in your blood.
Your lipoproteins (or blood cholesterols) carry all fat-soluble nutrients (D, A, and K2) to your tissues, organs and bones. They then return to the liver where they're repackaged or stored to be sent out again in VLDLS (very low-density lipoproteins).
But how well Vitamin K2 is delivered to each part of the body depends on the variant, as their delivery mode and efficiency varies.
Role and benefits of Vitamin K2 MK-4
MK-4 is the most readily absorbed in the tissue. It seems to be the most potent or quickly used form of Vitamin K2.
After absorption in the intestines, the body positions MK-4s on the outer layers of your blood cholesterols. Vitamin K2 MK-4 is unloaded from blood cholesterols first. It is therefore distributed to the tissues like kidneys, lungs and muscles. Here, it activates matrix-GLA protein to prevent calcium buildup in organs and vessels.
Vitamin K2 MK-4 is also most active in regulating genes that may prevent cancer and as an antioxidant in the brain.
Role and benefits of Vitamin K2 MK-7
Vitamin K2 MK-7 is positioned closer to the center of lipoproteins or blood cholesterols.
After MK-4 is cleaved off and used up quickly by the body, MK-7 is then available to be used in one of three ways:
Delivered to bones
Delivered to liver (for liver function, with K1)
Repackaged in the liver to be sent to bones
MK-7 is more readily absorbed into bone. Here, it activates osteocalcin and provides skeletal benefits.
*The difference between MK-4 and MK-7 is still being mapped out by researchers. But for now, it seems clear that a dietary source of MK-4 is preferable in the diet due to its highly absorbable nature.
Vitamin K1 and Vitamin K2 are distinct and need to be known that way
Despite their similar names, we need to eat both Vitamin K1 and Vitamin K2. Most importantly, Vitamin K2 is far more crucial for dental and overall health.
In the next article in this series, we'll look at the food sources of Vitamin K2.
Now I want to hear from you!
Do you get enough Vitamin K1 and K2 in your diet? Please leave your questions in the comments below.
For more information on Dr. Lin's clinical protocol that highlights the steps parents can take to prevent dental problems in their children: Click here.
Dr Steven Lin's book, The Dental Diet, is available to order today. An exploration of ancestral medicine, the human microbiome and epigenetics it's a complete guide to the mouth-body connection. Take the journey and the 40-day delicious food program for life-changing oral and whole health.
Click below to order your copy now:
US AMAZON
US Barnes & Noble
UK AMAZON
Australia BOOKTOPIA
Canada INDIGO
References
https://www.westonaprice.org/health-topics/abcs-of-nutrition/on-the-trail-of-the-elusive-x-factor-a-sixty-two-year-old-mystery-finally-solved/
Thijssen HHW, Drittij-Reijnders MJ. Vitamin K distribution in rat tissues: dietary phylloquinone is a source of tissue menquinone-4. Br J Nutr. 1994; 72: 415-425.
Ronden JE, Thijssen HHW, Vermeer C. Tissue distribution of K-vitamins under different nutritional regimens in the rat. Biochim Biophys Acta. 1998; 1379: 16-22.
Gijsbers BLMG, Jie K-SG, Vermeer C. Effect of food composition on vitamin K absorption in human volunteers. Br J Nutr. 1996; 76: 223-229.
Schurgers LJ, Vermeer C. Determination of Phylloquinone and Menaquinones in Food. Haemostasis. 2000; 30: 298-307.
Garber AK, Binkley NC, Krueger DC, Suttie JW. Comparison of Phylloquinone Bioavailability from Food Sources or a Supplement in Human Subjects. J Nutr. 1999; 129: 1201-1203.
Binkley NC, Grueger DC, Kawahara TN, Engelke JA, Chappell RJ, Suttie JW. A high phylloquinone intake is required to achieve maximal osteocalcin gamma-carboxylation. Am J Clin Nutr. 2002; 76: 1055-60.
Thijssen HHW, Vervoot LMT, Schurgers LJ, Shearer MJ. Menadione is a metabolite of oral vitamin K. Br J Nutr. 2006; 95: 266.
Schurgers LJ, Vermeer C. Differential lipoprotein transport pathways of K-vitamins in healthy subjects. Biochim Biophys Acta. 2002; 1570: 27-32.
Vermeer C, Shearer MJ, Zittermann A, Bolton-Smith C, Szulc P, Hodges S, Walter P, Rambeck W, Stocklin E, Weber P. Beyond deficiency: potential benefits of increased intakes of vitamin K for bone and vascular health. Eur J Nutr. 2004; 43: 325-335.
Schurgers LJ, Teunissen KJF, Hamulyak K, Knapen MHJ, Hogne V, Vermeer C. Vitamin K-containing dietary supplements: comparison of synthetic vitamin K1 and natto-derived menaquinone-7. Blood. 2006; [Epub ahead of print].