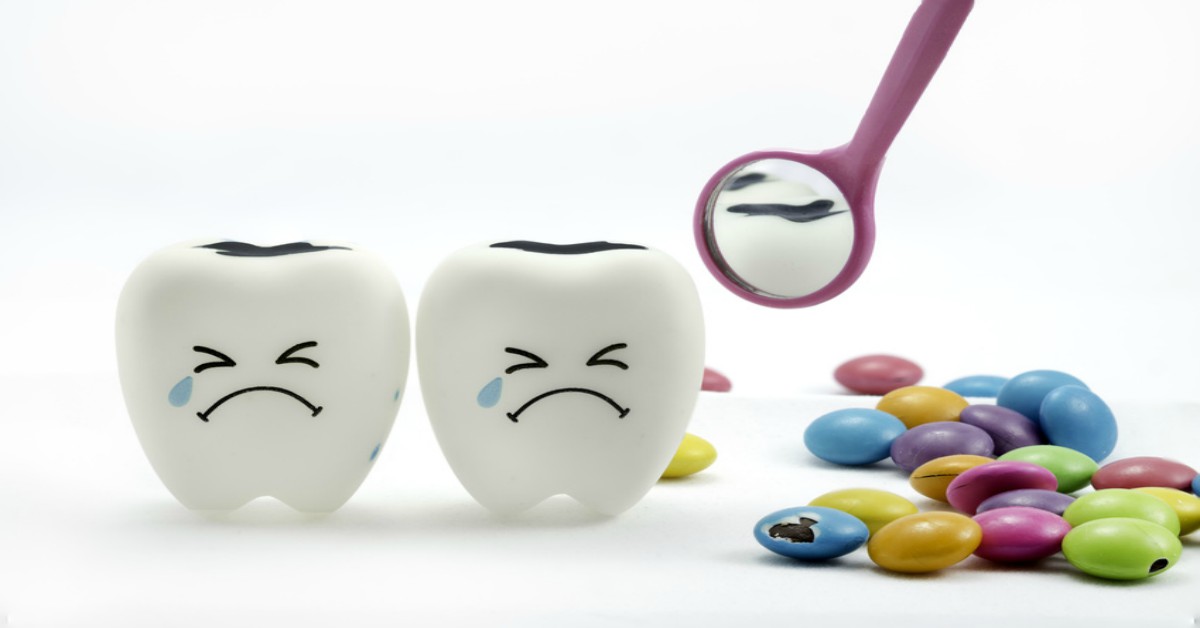 We've all experienced it: walking into the dentist for your bi-yearly checkup, only to be faced with a brand new cavity. It's then that you sheepishly explain your unrelenting sweet tooth – something that's surely put you at risk for tooth decay, right?
As children, we're taught that sugar equals cavities, and if we want to avoid painful procedures, we must first avoid the sweets that put us at risk. But that's only half the story. What most people don't realize is that when you get a cavity, it's more than a sign that you're consuming too many sugary foods and drinks; it's a sign that some important processes in your body aren't working properly – processes you might not even know exist.
The relationship between good bacteria
What comes to mind when you hear the word "bacteria"? You may reference things like disease, germs, or filth, to name a few. When it comes to tooth decay, the relationship between teeth and bacteria is relatively simple:
Sugar + Bacteria = Acid
Acid + Tooth = Dental Decay
While these statements are true, it's lacking a crucial explanation: how do bacteria and sugar create decay when they combine with each other? And, on that same note, how do some people consume large amounts of sugar with relatively little decay, and others are constantly fighting it, no matter how much they brush and floss.
If you know about the link between the gut microbiome and disease elsewhere in the body, you're one step ahead! In the last several years, we've learned that our whole body is actually filled with bacteria that it needs to stay healthy, and the mouth is no exception. Like leaky gut syndrome or chronic inflammation, tooth decay is a sign that the bacteria in the mouth are out of balance – and it can mean trouble for the rest of the body.
Why our mouths need bacteria
Just like the gut requires  a healthy balance between good and bad bacteria, the mouth needs a balance of the different species, and a lot of that balance occurs in the plaque on our teeth. You may recall a conversation with your dentist stating that plaque is simply sticky film that builds up on your teeth – the enemy of good oral health. But that's not all it is. Plaque is built up by bacteria that release acids after you eat sugar. Over time, they can break down the enamel and cause cavities.
But thanks to our new understanding of the human microbiome, we know that plaque also helps to maintain our teeth – how's that for a plot twist? To acknowledge this deeper understanding, we now refer to plaque as "dental biofilm," or a layer of microbes which stick together to a surface. To beat tooth decay, we need to appreciate this delicate ecology of the mouth, and know that simply removing plaque does not address the root cause of oral disease.
How the industrial revolution changed our mouth and health
When did our diet stray from the foods that our mouths were designed to process? Researchers have studied the DNA of plaque that has survived on human skulls dating back to our distant ancestors and found two major shifts in the diversity and composition of the oral microbiome, the first came after humans stopped living as hunters and gatherers.
The plaque examined showed that the people who lived as hunter-gatherers had much more diverse oral bacteria than their descendants who lived in agricultural societies. They also had less tooth decay, which seems that as long as their oral microbiome was balanced and diverse, their dental health took care of itself.
The second shift came after the industrial revolution, when processed food and refined sugar became the norm. This modernization of food disrupted our gut and oral microbiome balance on a mass scale, and modern dental disease was born.
Keep the microbiome balanced and diverse
For your body to perform at its best, your mouth and gut microbiome needs a balance of good and bad bacteria. When you sit down to your next meal, remember that you're responsible for feeding trillions of microbes living inside you. To keep them happy, you need to consume a balance of foods that contain probiotics – beneficial bacteria – and prebiotics, or food for the beneficial gut bacteria.
Fermented foods like kefir, sauerkraut, kimchi, and kombucha are all natural probiotic sources. As for prebiotics, garlic, Jerusalem artichokes, onions, and asparagus are great options.
Want to know more? Dr Steven Lin's book, The Dental Diet, is available to order today. An exploration of ancestral medicine, the human microbiome and epigenetics it's a complete guide to the mouth-body connection. Take the journey and the 40-day delicious food program for life-changing oral and whole health.
Click below to order your copy now:
US AMAZON
US Barnes & Noble
UK AMAZON
Australia BOOKTOPIA
Canada INDIGO
For more information on Dr. Lin's clinical protocol that highlights the steps parents can take to prevent dental problems in their children: Click here.