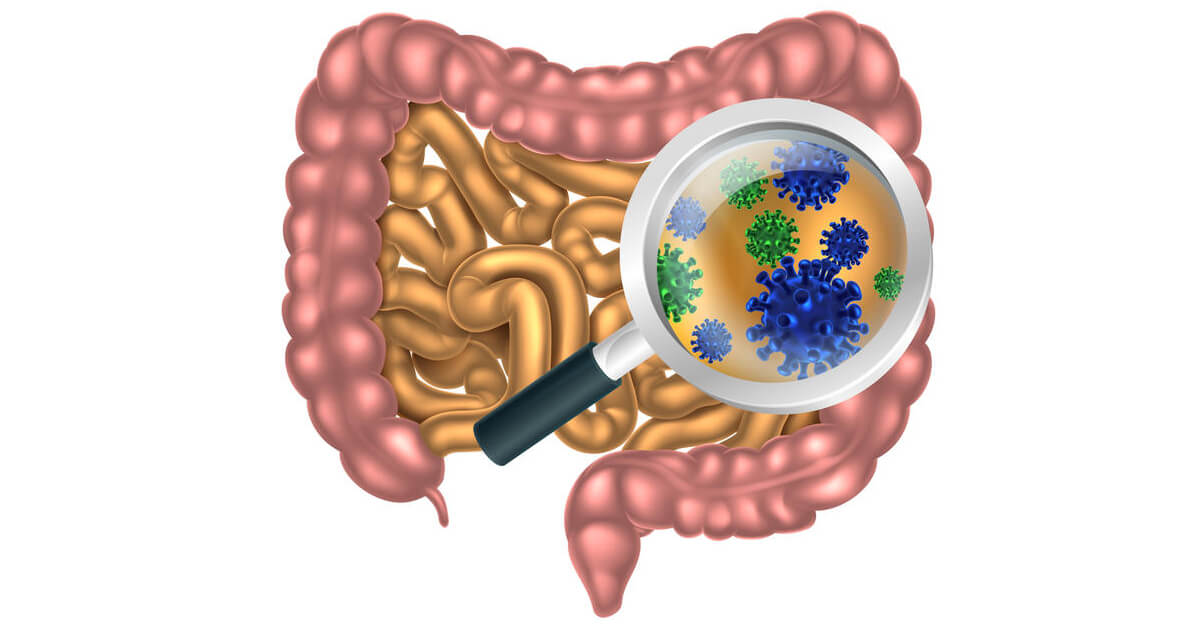 As a dentist, I make sure to ask all of my patients one question. 'How is your digestive health?'
This often surprises them. You may wonder why a dentist would worry about a patients' gut health?
The answer is simple. Often, the problems I see in the mouth are caused by the digestive system. Also, there may be a clue in the mouth that suggests a problem with the gut microbiome.
The mouth is a part of your gut microbiome and home to your oral microbiome. Microbes, enzymes, and nutrients all pass through it on their way to your gut. Your gut has its own unique microbiome.
Your mouth and gut microbes always interact with one another, so digestive health problems can affect your oral health.
Let's look at the link in more detail.
The gut microbiome and health
When your digestive health is good, it's a good sign you feel good too. This is because your gut microbiome is in control of many of the organs and processes in your body.
It's easy to think of the gut as just a food processing plant. It breaks food down, absorbs nutrients and sends waste for disposal. But your digestive system is far more important and complex than you may think.
Healthy digestion depends on the trillions of microbes that live in our gut microbiome. Your gut microbiome breaks down your food to absorb nutrients. But it also uses food to maintain your digestive cells.
Your digestive cells work with your intestinal bacteria. These bacteria are responsible for 'talking' to your immune system. If your gut bacteria are imbalanced, your digestive system and immune system can suffer.
The Digestive System
Your digestive system has three elements:
The microbiota
The barrier (gut lining)
The immune system
The Microbiota
Most of the trillions of microbes in your digestive system are situated in the large intestine.
Intestinal bacteria help to digest food, but also need food themselves. Your body can't digest fiber, but your intestinal bacteria need it. That's why eating fiber is essential for a healthy gut microbiome.
When your gut microbiome is well fed and balanced, your digestive system is healthy. And a healthy digestive system helps to keep your body healthy!
The Gut Lining or Barrier
Your gut is open to the outside world and its germs. Food and microbes enter the mouth and must A one-cell thick gut barrier is all that separates the rest of your body from the outside world.
This very gut barrier defends you from harmful microbes. However, it depends on friendly or probiotic bacteria to help maintain its barrier cells.
When gut microbiota ferment fiber, they release short-chain fatty acids. These molecules are used for fuel by cells of your gut lining. If you don't eat enough fiber, your gut bacteria don't feed your gut lining.
When your gut lining isn't maintained by your gut bacteria, its barrier function is weakened or lost. This results in a condition known as 'leaky gut'.
The Immune System
Your digestive system houses 80% of your immune system.  There's a three-way balancing act between bacteria, the gut barrier, and immune system.
Together, probiotic microbiota and your body work to keep harmful bugs out. But they also work to perform many other functions.
Your Digestive System as an Immune Organ
Digestive health tightly manages your immune system's health. Until recently, little was understood about how the digestive immune function worked.
The lymph tissue in your gut is the largest immune organ in the body. It monitors and kills harmful bacteria. However, it also makes friends with them too.
Immune cells in the gut work with intestinal bacteria and become 'tolerant' of each other. A 'tolerant' immune system won't attack friendly bacteria or your own cells.
Your gut microbiome 'trains' your immune cells via the cells of your gut lining.
The immune function in your gut has two methods of defense:
The barrier (a mucosal 'firewall').
Antibody-directed immune responses.
Your gut lining (or mucosal firewall) has four ways to stop microbes passing through it.
It produces mucus that stops gut bacteria sticking to intestinal cells.
It releases proteins that keep gut bacteria under control.
It has immune cells waiting to eat microbes crossing the gut lining cells.
It targets harmful bacteria with specific immune cells such as IgA and specific T-cell immune cells.
Your gut microbiome and immune system are designed to be in close contact. However, they're not designed to have too close contact. If the gut lining breaks down, the immune system can be weakened.
How Intestinal Bacteria Cause Inflammation
Your digestive system must monitor both your gut microbiome and incoming food.
When your gut microbes become imbalanced, it disrupts your immune system. Digestive diseases, allergies, and metabolic syndromes are now thought to originate here.
Your digestive system sends immune cells all over the body.  Inflammation in the digestive system can be detected by markers in the blood.
Normally, your gut bacteria prevent too much inflammation in the immune system. But when the gut microbes and the immune system falter, digestive problems can occur.
Chronic Digestive Problems
It's estimated that 70 million people in the US suffer from digestive diseases. The rise in these diseases may be due to lifestyle factors. Greater use of antibiotics and unhealthy diets can reduce your beneficial bacteria.
Irritable bowel disease is one of the most common categories of digestive diseases. There are broadly two types of IBD:
Crohn's Disease
Ulcerative Colitis
These conditions have been linked to gut barrier dysfunction and changes in the gut microbiome. Crohn's disease and ulcerative colitis are linked to a loss of bacterial diversity.
Gut microbiome imbalance causes chronic digestive disorder. This, in turn, can cause changes that favor disease. A good example of is the strain of bacteria E. coli. It's a normal resident of our digestive system that causes no trouble. However, when it overgrows, it can cause disease.
Immune System Problems
Immune conditions linked to digestive problems include:
Allergies
Autoimmune diseases
These conditions indicate an overreactive immune system.
Allergies
Allergies are an immune response to a certain allergen. Immune cells, such as mast cells and IgE antibodies, are released in response to that allergen.
However, it starts with poor digestive health that causes immune problems. Studies have shown that leaky gut can allow too many allergens to pass the gut lining. These allergens then cause a high immune response. This creates a vicious cycle of inflammation as your immune system responds.
Autoimmune Diseases
Autoimmune conditions occur when your immune system targets your own cells.
Researchers have found a link between these conditions and gut barrier function. Celiac disease, for example, is an autoimmune reaction to gluten that occurs due to loss of gut barrier function.
In rheumatoid arthritis, the immune cells target the joints. This too is linked to loss of gut barrier function and possibly certain strains of oral bacteria.
Type II Diabetes & Obesity
Digestive health also affects your metabolism. Researchers have found links between the gut microbiome, insulin resistance, and obesity.
In mice studies, certain gut bacteria increase the risk of becoming overweight. Gut imbalance may also affect insulin activity and blood sugar regulation. This may contribute to risk of type II diabetes and obesity.
Digestive Conditions and Oral Health
Your digestive health has body-wide effects. But the easiest to detect may be those in the mouth.
Your mouth and gut have a close bond. Oral health can have a direct impact on your gut health and vice versa. Oral health problems can be linked to poor digestive absorption and immune response. The very first signs of digestive diseases may also occur in your mouth.  Irritable bowel disease, Crohn's disease, and ulcerative colitis all may exhibit oral signs.
Let's look at some of these oral signs and what they can tell us about your gut health.
A sign of immune imbalance in the digestive system. Deficiency in folic acid and other B vitamins can also cause a swollen tongue.
Flat red patches

on the gums and inside of cheeks
These painful lesions can be a sign of vitamin B12 deficiency.
Oral candida or yeast infection
Candida infection is a sign of immune imbalance. In the mouth, it may be a sign of zinc deficiency due to poor digestive function.
Mouth ulcers or aphthous ulcers
Mouth ulcers and red, inflamed gums can indicate digestive problems. They occur due to an immune imbalance in the gut.
These lesions in the mouth are similar to those seen in Crohn's disease in the colon.
As the name suggests, this is the sensation of burning in the mouth. There may also be a loss of taste, dry mouth and oral inflammation. This can suggest mineral and low vitamin levels. However, it may also be a side effect of medications such as anti-depressants.
Autoimmune Diseases
The autoimmune response begins in the digestive system. However, specific auto-immune conditions can present in the mouth. These oral signs may assist in the diagnosis of the condition.
Lichen Planus: A lacy white lesion in the mouth. It may also exist alongside skin rashes or burning sensations in the mouth. 
Pemphigus: Oral pemphigus (most commonly vulgaris) is a group of skin blistering disorders. Autoimmune antibodies target skin cells, causing break down and blisters. The oral mucosa may be red, inflamed and ulcerated.
Oral pemphigus often presents alongside skin lesions.
Celiac disease: Celiac disease is caused by the autoimmune response to gluten. In can cause mouth ulcers and also disrupt tooth formation. This results in discolored or poorly formed tooth enamel. Teeth may be brown and rough with defects that can increase the risk of tooth decay.
Rheumatoid arthritis (RA): A chronic autoimmune condition causing painful, swollen joints.
The inflammatory proteins in RA and gum disease are alike. If you suffer RA, you may be at higher risk of gum disease.
Sjogren's disease: This condition is an immune reaction to mucus cells. It results in the breakdown of salivary glands, reducing saliva flow. This can cause dry mouth and increase the risk of tooth decay and tooth loss. It may also cause dry eyes, skin rashes, joint pain, and numbness or tingling in extremities.
Metabolic Conditions
Type-II diabetes: Poor blood sugar regulation reduces the healing ability of your mouth. Insulin resistant type II diabetics have a higher risk of gum disease.
The condition may present in its early stages with bleeding and inflamed gums. Both conditions are also related to higher risk of heart attack.
Obesity:  Obesity is linked to inflammation that seems to worsen gum disease. While no causal link has been established, weight gain can have an impact on oral health.
Healthy gut healthy mouth
Your gut microbes, gut lining, and immune system work together to maintain digestive health. Problems with intestinal bacteria can cause a range of diseases.
Oral health is directly connected to digestive health. If you suffer from a digestive disease, it may cause oral signs or problems. If you suffer from digestive problems, consider their impact on your oral health.
The mouth and gut are connected. In order to heal one, you often need to heal the other. Take some time to consider if you have any of the symptoms described above. See your dentist or doctor straight away if you have any concerns.
Do you have digestive or oral health concerns? Let us know in the comment section below.
For more information on Dr. Lin's clinical protocol that highlights the steps parents can take to prevent dental problems in their children: Click here.
Want to know more? Dr Steven Lin's book, The Dental Diet, is available to order today. An exploration of ancestral medicine, the human microbiome and epigenetics it's a complete guide to the mouth-body connection. Take the journey and the 40-day delicious food program for life-changing oral and whole health.
Click below to order your copy now:
US AMAZON
US Barnes & Noble
UK AMAZON
Australia BOOKTOPIA
Canada INDIGO