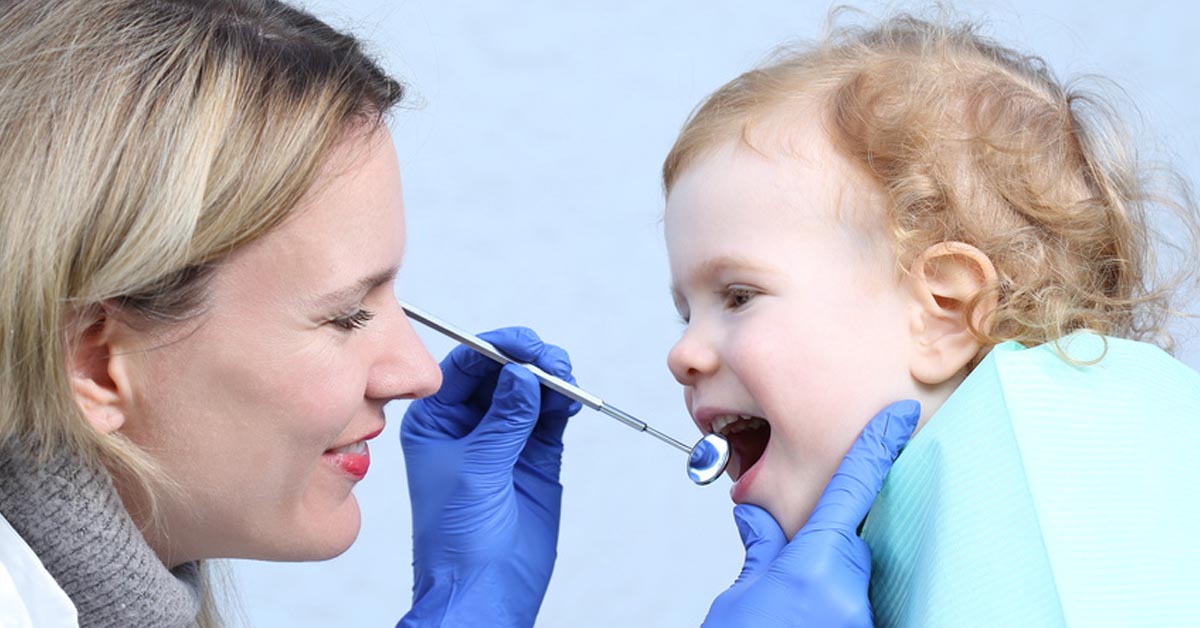 When your child is born, the last thing you usually think about is their teeth. You know most babies don't begin to get their teeth through until they're around 4 months old. And there are plenty of other things to think about
But in most cases, dental diseases and problems don't occur suddenly. They're due to processes that occur over a long period. That hole in your tooth you've only just noticed? It's been in the making for a long time.
Your child's dental problems could begin long before their teeth appear. That's why it's so important for your child to see a pediatric dentist at an early stage.
How Should I Take Care of My Baby's Mouth?
The most common question that parents ask about their newborn's dental health is:
"When should I start brushing my child's teeth?"
For years, the official answer was: 'Begin to brush your baby's teeth as soon as they erupt.' That advice is fine of course, the problem is that it implies that a kids dental health is idle until the teeth erupt.
But we now know that baby teeth can be positively or negatively influenced before they erupt.
Good dental health begins right from birth. The newborn dental exam needs to become the new standard of care. This can not only help prevent future tooth decay but also poor tooth and jaw development. This in turn can prevent crooked teeth that require orthodontic braces.
By understanding a newborn's jaw, face, head, and neck we can get discover if a child is growing as best as they can.
When Should I Take My Child to The Dentist for The First Time?
The answer? Probably much earlier than you imagine!
For a long time, it's been standard practice to wait for the first teeth to erupt before taking your child to the dentist. But there are things we dentists can spot well before the appearance of the first teeth. We can look for the 4 signs of good dental health in a newborn.
Mouth breathing in your baby may indicate their teeth and jaw aren't growing as they should.  A newborn's mouth may even provide insight into difficulties with the birth. Jaw and teeth development factors happen at a remarkable rate during the earliest stages of growth.
Jaw and breathing difficulties can influence oral development, contributing to crooked teeth, sleep apnea and other conditions.
So, let's look at four important checks your pediatric dentist can do.
Pediatric Dentist Check #1: Tongue-ties and oral restrictions
Midwives used to make sure they kept one fingernail sharp. There was a very good reason for this.
Sometimes, a newborn may have a tag of skin under the tongue. This is known as a tongue-tie or ankyloglossia. These tags can also occur on the upper or lower lips (called lip-ties). Tongue-ties can play a key role in your child's dental health.
Not so long ago, midwives would check for tongue-ties in newborns as standard. If they found a tongue-tie or 'lingual frenum', they would cut it with their sharp fingernail. This was less barbaric and more successful than it sounds – a tongue-tie is a flap of skin, not muscle.
Tongue-ties are related to the embryonic development of the tongue. I believe that tongue-ties may be linked to vitamin A deficiency in vitro with a flow on effect to MTHFR gene mutations.
The lingual frenum is supposed to undergo apoptosis (or be eaten away) at 12-13 weeks in-vitro. If the restriction remains, it can limit tongue movement and affect your child's jaw development. This can increase the chance of your child needing braces in the future.
To check for normal tongue vs tongue-tie, you simply look into the child's mouth. However, there are different types of tongue-tie and some are easier to see than others. A pediatric or general dentist can confirm if your child has a tongue-tie or not.
Your newborn or child may also display symptoms of tongue-tie. These can include problems with latching on during breastfeeding, mouth breathing or poor speech development.
Checking for oral restrictions is vital for raising a child with healthy teeth and jaws. It's part of the newborn dental exam that can be done right after birth!
Pediatric Dentist Check #2: Newborn head and jaw posture
A newborn's skull is not fully formed at birth and is soft and malleable. You can actually feel the spaces on a baby's head. These are the open cranial sutures that feel soft to touch.
During a head-first vaginal birth, the birth canal molds the baby's head into an oblong shape. The malleable skull bones allow the head to change shape. This is part of the natural process of skull formation, which is complete at around 3 years old.
However, a traumatic birth or C-section may result in asymmetrical skull and jaw formation. Later in life, it may increase a child's risk of getting braces and cause cranial imbalance.
Difficult births include:
Premature birth
Births during which the umbilical cord is caught around the baby's neck
Difficult or lengthy labor
Caesarean section (C-section)
These problematic births may all distort a child's growth and influence their posture during development.
Common signs of difficult births
Imbalances in the skull may also result in asymmetrical jawbone formation.
Other signs of asymmetry include:
A folded ear
One eye that is smaller than the other
Flat Head Syndrome
It's normal for a newborn's head to look 'pointy' for a week or two after birth. But if a baby develops a lasting flat spot, either on one side or the back of the head, it could be flat head syndrome. There are two types of flat head syndrome:
Plagiocephaly – the head is flattened on one side and looks asymmetrical. The ears may be misaligned and sometimes the forehead and face bulge a little on the flat side. The head looks like a parallelogram when seen from above.
• Brachycephaly – the back of the head becomes flattened, causing the head to widen, and occasionally the forehead bulges out.
Torticollis
This refers to a twisted neck. Babies with torticollis will act like most other babies except when attempting activities that involve turning. A baby with torticollis might:
tilt their head in one direction
look at you over one shoulder instead of turning to follow you with their eyes
have difficulty breastfeeding on one side (or prefer one breast only)
work hard to turn towards you and get frustrated when unable to turn their head completely
have a very tense body
cry a lot
seem to struggle for air
sleep with their head tilted back and to the side
Pediatric Dentist Check #3: Oral posture and mouth breathing
A newborn should primarily breath through their nose. When resting, a newborn can have the tongue slightly protruding (which is thought to be related to breastfeeding posture). But for the most part, their lips should be closed.
Open mouth posture, mouth breathing or sleeping with their mouth open is a sign that either your child is having difficulty breathing through their nose or not getting enough air. Newborn mouth breathing may accompany distress caused by a strained upper thoracic breathing pattern.
Signs include:
Open mouth with tongue hanging out of the mouth
Tight rib cage
Stiff and tense lower ribs
Horizontal orientation of the ribs
Rapid, shallow breathing with belly moving up and down quickly
Preference for one breast when feeding
There may be many causes of mouth breathing, but here are some to look for:
Restrictions in jaw and tongue
Unsettled sleep and feeding
Low muscle tone, resulting in poor oral posture with mouth open
Rigid, arching, very tense baby
Asymmetry (tending to only turn head to one side)
Pediatric Dentist Check #4: Breastfeeding, the digestive system and GERD symptoms
A child with breastfeeding problems and digestive distress may have underlying cranial and skeletal imbalances. In severe cases such as Sandifer Syndrome, babies may have seizures and sleep with their head back and twisted to the right. This is a reaction to severe reflux but is often misdiagnosed or missed.
Newborns may experience digestive imbalances and reflux or GERD symptoms.
These include:
Irritable feeding
Chronic reflux or colic
Breastmilk intolerance
Poor gut mobility and stools
Rashes and poor feeding
Gagging
Digestive system imbalances in your newborn may be linked to factors that influenced the mother's gut microbiome.
These include:
Thrush during pregnancy
Urogenital problems like UTIs
Digestive problems like IBS, constipation or bloating
C-section
Diaphragm release may allow a newborn to breathe deeply into their belly. This allows the vagus nerve to perform properly and reset the digestive system.
Dental Checks = Health Checks
Hopefully, you can now see how important a newborn dental check is – and how much it can tell us about your baby's overall health and development. If your baby is distressed or not sleeping or feeding well, a good dentist may be able to diagnose the problem and suggest solutions.
Taking your baby for a dental check may be one of the most important thing you can do for their health and development!
Do you have any questions on your child's dental development? Leave your questions in the comments below.
For more information on Dr. Lin's clinical protocol that highlights the steps parents can take to prevent dental problems in their children: Click here.
Want to know more? Dr Steven Lin's book, The Dental Diet, is available to order today. An exploration of ancestral medicine, the human microbiome and epigenetics it's a complete guide to the mouth-body connection. Take the journey and the 40-day delicious food program for life-changing oral and whole health.
Click below to order your copy now:
US AMAZON
US Barnes & Noble
UK AMAZON
Australia BOOKTOPIA
Canada INDIGO