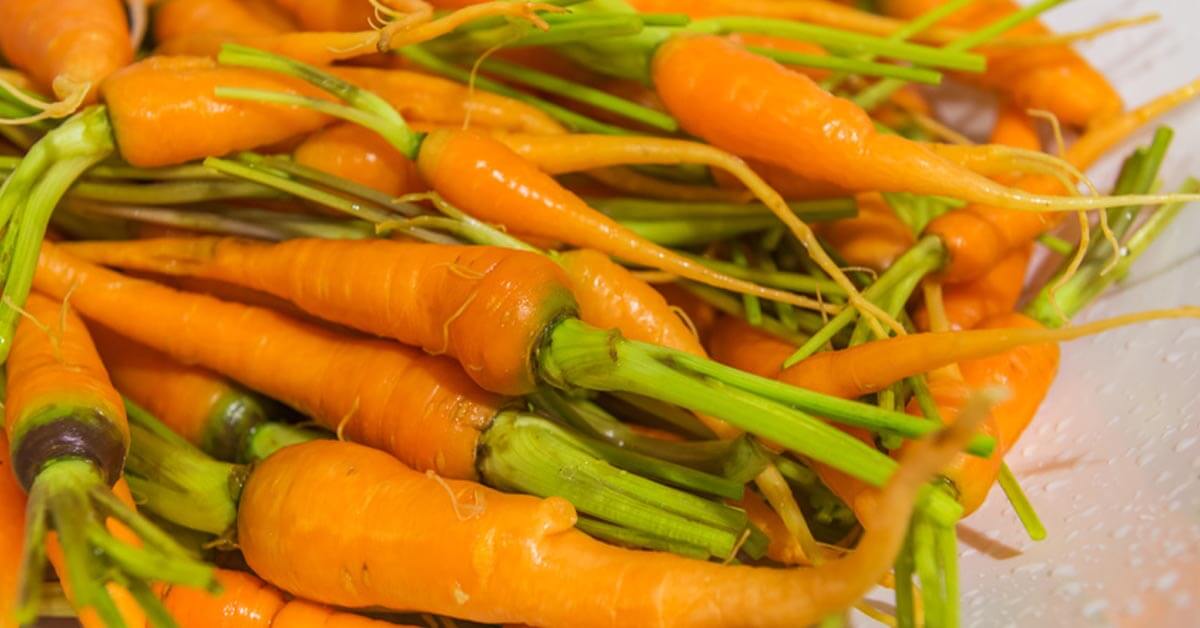 Did you know that there is a connection between how you breathe and the way your teeth grow in? And did you know vitamin A deficiency and allergies can influence both?
Nasal breathing is closely connected to proper upper teeth development. Unfortunately, allergies can inhibit your breathing patterns which then causes abnormal dental growth.
With 1 in 5 Americans who suffer from allergies, chances are you one of them. When the nasal sinuses are clogged with mucus, it makes it difficult for you or your loved ones to breathe properly. Instead of breathing through your nose, you may start breathing more through your mouth, which is known to cause crooked teeth.
You probably didn't realize your child's allergies could be the root of their crooked teeth, but it's an important connection to make.
Luckily, vitamin A can help combat allergies and make the mouth develop properly. Let's take a closer look at the importance of vitamin A in oral development.
What Happens When We Have Allergies?
An allergy is when your immune system reacts to a trigger (or "allergen") such as pollen, mold or animal dander. When you come into contact with a trigger, your body starts producing a protein called IgE.
Next, histamine and other chemicals are then secreted into your blood, causing symptoms like nasal congestion and watery eyes. These cause inflammation and blockage of the nasal passageways, which make breathing difficult and can lead to poor dental development.
Vitamin A: The Immunity Booster
Vitamin A and allergies are linked via its important roles in innate and adaptive immunity. Innate immunity is our body's first line of immediate, nonspecific defense against foreign substances and pathogenic microorganisms. Innate immunity consists of certain anatomical barriers to infection. Imagine you have an army protecting you from invaders that you are born with – this is your innate immunity.
Next, you have your adaptive immunity (or "acquired immunity"), which is the body's second line of defense against pathogens. It takes several days or weeks to develop and involves antigen-specific responses and immunologic memory. This is a secondary army that's actually been trained by your body, like special forces.
With innate immunity, the skin and mucosal cells of the eye and respiratory, gastrointestinal and genitourinary tracts act as a barrier to infections. Vitamin A helps maintain the structural and functional integrity of those mucosal cells. Vitamin A also plays a key role in the normal function of several types of immune cells that are critical to innate immunity, such as natural killer cells, macrophages and neutrophils.
With adaptive immunity, Vitamin A helps ensure the proper functioning of cells that facilitate adaptive immunity, such as T and B lymphocytes. Vitamin A also promotes the generation of antibody responses to specific antigens.
Both your innate and adaptive immunity needs proper tools to fight off invaders that can make you uncomfortable and sick. Vitamin A is an important nutrient that can be added to your arsenal to protect against inflammation and other symptoms.
Vitamin A Deficiency and Immunity
Studies show that vitamin A deficiency affects both innate and adaptive immunity. Researchers have found that vitamin A deficiency affects innate immunity by impairing the normal regeneration of mucosal barriers damaged by infection.
Unfortunately, deficiency reduces the function of neutrophils, macrophages, and natural killer cells. Vitamin A also affects adaptive immunity and plays a role in the development of both helper T cells and B cells. Deficiency in vitamin A lessens the antibody-mediated responses directed by Th2 cells. Some aspects of Th1-mediated immunity are also impaired.
Globally, vitamin A deficiency has become a major public health concern, especially in developing nations. Both experimental animal and epidemiological studies have revealed that Vitamin A deficiency leads to immunodeficiency and increases the risk of infectious diseases.
Supplementation with Vitamin A
Why is vitamin A so important?
Studies have shown vitamin A supplementation can enhance immunity. In one mouse study, exposure to vitamin A in the womb influenced immune system development and lifelong ability to fight infections.
Researchers also have found that vitamin A may help boost the immune system to fight tuberculosis by lowering the amount of cholesterol in TB-infected cells. Vitamin A supplementation has also been shown to reduce infection-related morbidity and mortality associated with vitamin A deficiency.
A meta-analysis of 43 randomized controlled trials found that supplementation decreased the risk of all-cause mortality by 24 percent in children.
A reduced risk in mortality? Now that's a case for vitamin A. Be sure you and your loved ones are getting plenty of vitamin A.
Are You Getting Enough Vitamin A?
Your vitamin A levels can be checked through a blood test. Normal values range from 50 to 200 micrograms per deciliter (mcg/dL) or 1.75 to 6.98 micromoles per liter (micromol/L).
It's important to note that vitamin A supplementation can significantly help you if you are deficient but can have negative effects if your levels are fine. For optimal immunity, a balance in vitamin A levels is key; too much vitamin A can harm the body's trained immunity.
How Much Vitamin A Do You Need?
How much vitamin A you need depends on several factors, such as your age, gender, pregnancy, and your overall health. Your doctor can advise you about the right dose for you.
As a starting point, the U.S. Recommended Dietary Allowances for vitamin A are listed below;
U.S. Recommended Dietary Allowances for Vitamin A
U.S. Recommended Dietary Allowance (RDA) for adults is as follows:
Men: 900 micrograms daily (3,000 IU)
Women: 700 micrograms daily (2,300 IU)
Pregnant women, 19 years old and older: 770 micrograms daily (2,600 IU)
Lactating women, 19 years old and older: 1,300 micrograms daily (4,300 IU)
Pregnant women, 14-18 years old: 750 micrograms (2,500 IU) daily
Lactating women, 14-18 years old, 1,200 micrograms (4,000 IU) daily
U.S. Recommended Dietary Allowance (RDA) for children:
1-3 years old: 300 micrograms (1,000 IU) daily
4-8 years old: 400 micrograms (1,300 IU) daily
9-13 years old: 600 micrograms (2,000 IU) daily
I recommend having your vitamin A levels tested by your doctor and supplementation closely monitored. Too much vitamin A can be bad for you, so it's important not to assume you are deficient and begin taking it in reckless quantities.
Where is Vitamin A Found?
There are two different types of vitamin A. Pre-formed vitamin A is the first kind and is found in meat, poultry, fish and dairy products. Pro-formed vitamin A is the second kind and is found in fruits, vegetables, and other plant-based products. Beta-carotene is the most common type of provitamin A in foods and dietary supplements.
Overall, I recommend pre-formed over pro-formed vitamin A.
What Are Some Food Sources of Vitamin A?
Vitamin A is found naturally in many foods. Some foods, such as milk and cereal, are fortified with vitamin A, however I don't recommend getting your vitamin A from sources of pre-formed vitamin A. Pre-formed vitamin A is more readily available for your body to use, as opposed to pro-formed vitamin A.
The following foods contain vitamin A:
Pre-formed Vitamin A
Beef liver and other organ meats
Cod liver oil
Certain types of fish, such as salmon
Grass raised dairy, such as milk, yogurt, cheese and butter
Pro-formed vitamin A (needs to be converted)
Leafy, green vegetables and other green, orange, and yellow vegetables, such as broccoli, carrots, and squash
Fruits, such as cantaloupe, apricots, and mangos
Dairy products
Fortified breakfast cereals
What About Vitamin A Supplements?
I recommend getting enough preformed vitamin A from your diet as much as possible rather than supplementation, though some time people need an extra boost. Always consult your physician before commencing with Vitamin A supplements.
Vitamin A is also available through dietary supplements, usually in the form of retinyl acetate or retinyl palmitate (preformed vitamin A), beta-carotene (provitamin A), or a combination of preformed and provitamin A. Most multivitamin-mineral supplements contain vitamin A. You can also buy supplements that only contain vitamin A.
Vitamin A's role as an immunity booster, the benefits of supplementation and the harmful effects of vitamin A deficiency on immunity make a strong case for its use in allergy prevention. This can help to promote nasal breathing and proper upper teeth development.
I'm on a mission to let people know that crooked teeth is NOT inevitable.
More and more research is showing us that nutrient deficiencies are causing improper mouth development and a whole host of other negative health consequences. It's why diets with whole, natural foods, such as The Dental Diet are your best defense against most illnesses and health conditions.
Now we want to hear from you. Please leave your questions in the comments below.
For more information on Dr. Lin's clinical protocol that highlights the steps parents can take to prevent dental problems in their children: Click here.
Want to know more? Dr Steven Lin's book, The Dental Diet, is available to order today. An exploration of ancestral medicine, the human microbiome and epigenetics it's a complete guide to the mouth-body connection. Take the journey and the 40-day delicious food program for life-changing oral and whole health.
Click below to order your copy now:
US AMAZON
US Barnes & Noble
UK AMAZON
Australia BOOKTOPIA
Canada INDIGO
Sources:
https://www.ncbi.nlm.nih.gov/pubmed/11375434
http://www.the-scientist.com/?articles.view/articleNo/39505/title/Vitamin-A-s-Influence-on-Immunity/
http://www.jimmunol.org/content/192/5/2280
https://medlineplus.gov/ency/article/003570.htm
http://www.jleukbio.org/content/98/1/129.abstract
http://www.mayoclinic.org/drugs-supplements/vitamin-a/dosing/hrb-20060201
https://ods.od.nih.gov/factsheets/VitaminA-Consumer/