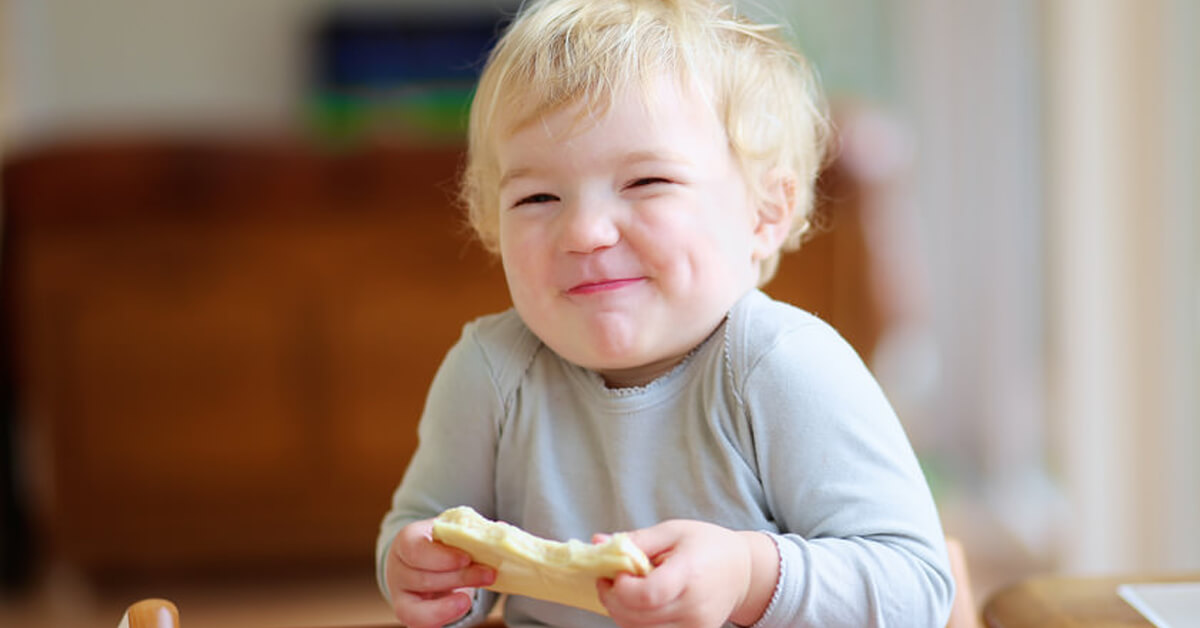 Getting your kids to eat healthy is a huge challenge as a parent. But you know that raising healthy kids means feeding your kids the right food.
There's one strategy that parents often don't think of. Your kid's dental health is crucial to their childhood development. And this is where your focus for eating should be for your kids.
Kids who need dental treatment early in life can have dental problems for the rest of their lives. If you want to raise healthy kids and prevent dental cavities, it starts with the food you give them.
Your kid's teeth only get diseases like cavities if they eat the wrong foods. But simply focussing on reducing foods like sugar doesn't show us which foods to strengthen teeth.
Your focus needs to shift to feeding them the foods that promote your kid's dental health.
In this article, we'll outline 10 foods to strengthen teeth. But, it's hard to find foods for healthy kids that they'll actually eat. So these are the foods that most kids will eat because of their tasty, that are great for their teeth!
Kids can be fussy eaters, but if we know how to feed them right, fussy kids CAN become healthy kids with healthy teeth.
Foods to strengthen kid's teeth #1: Cheese
You've probably heard that cheese is a food to strengthen teeth.
The most commonly known reason is that cheese contains calcium. This is true, cheese is a good source of calcium, which healthy kids need to strengthen teeth and bone. But cheese also contains many more nutrients that make healthy kids.
Cheese is a good source of fat-soluble vitamins. In particular vitamin D, vitamin A, and vitamin K2. These three vitamins help absorb and place calcium in teeth and bones. Diets that lack these vitamins can lead to poor kid's dental health. Cheese is also a good source of vitamin B12, crucial for a child's growing brain.
But another reason why cheese is great for your kid's health is probiotic bacteria. Cheese is created through the fermentation of milk. Well-treated cheese is full of probiotic bacteria. These bacteria help to strengthen teeth by living in your child's oral microbiome.
Probiotic bacteria are known to prevent tooth decay by stopping the growth of harmful bacteria.
You should feed your children a good quality, well-fermented cheese. Gouda and brie are both known to have good levels of vitamin K2 due to the probiotic bacteria present.
Foods to strengthen teeth #2: Butter
Butter is one of the best foods for teeth. Like cheese, it's rich in the fat-soluble vitamins A, D, and K2. But it also has the advantage of being higher in fat. And believe it or not, fat plays a big role in your kid's dental health.
For healthy kids, sugar is one of the biggest causes of dental health issues like tooth decay. Butter provides a great replacement for sweet sugary foods. It makes food taste great. But it also makes kids feel satisfied and full.
Butter is a great weapon against sugar. Which is terrible for your kid's dental health. For kids who have allergies against the casein in cheese, they may be able to eat butter. Butter contains less casein than cheese. This works as a great substitute.
Cultured butter is also a source of probiotic bacteria that strengthen teeth.
Foods to strengthen teeth #3 Raw Carrot
Few would argue that carrot is a food for healthy kids. It's great for kids dental health for many reasons. Carrots strengthen teeth due to their fiber content, which promotes healthy bacteria in the mouth.
They are a good supply of beta-carotene, a precursor nutrient to vitamin A. They are also rich in as other nutrients and antioxidants such as magnesium and zinc. Studies show that beta-carotene is more available in cooked carrots. But at the same time, it may reduce the antioxidant level.
Vitamin levels aside, the other reason why I recommend raw carrots is because of the texture. Healthy kids teeth need to chew on tough, fibrous foods. Carrots are an excellent way to provide chewing feedback your kids need for good dental health. A growing child's draw will grow and strengthen their teeth while chewing the whole carrot.
As a snack, they are versatile and sweet replacing option to be used in dips or chopped as a base to a dish or salad.
Foods to strengthen teeth #4 Meat on the bone
One mistake we make with foods for kids dental health is making food too easy to chew. Healthy kids should be fed cuts of meat, including the bone.
This may include chicken legs, marrow bones, ribs or other cuts that include bones. These parts of the animal include the bones, cartilage, tendons, and skin. A good cut of meat from these parts contain the proteins that build collagen.
Collagen is a crucial food for strengthening teeth because it supplies the support material for gums. Meat on the bone will also supply the minerals of the bone itself, which is a part of food needed by the body to strengthen teeth.
The act of chewing and tearing is all part of kid's dental health and development. Simply cutting up breast meat doesn't allow your kids to gain the physical nutritional benefits of chewing.
Foods to strengthen teeth #5: Kombucha
Kombucha is a fermented tea drink. With a sweet, tangy and refreshing taste, Kombucha is a drink that kids will enjoy having.
Fermented foods have live probiotic cultures in them. Like cheese and butter, kombucha adds these probiotics to the oral microbiome. These friendly microbes help to fight harmful bacteria.
However, Kombucha also has other benefits. As it's made from tea it's a good source of antioxidants known as polyphenols. These have been shown to promote overall oral health.
Kombucha is a great drink to strengthen kids teeth. But the best part may be its use as a replacement for sweetened drinks. Sugary, flavored drinks are one of the prime culprits for dental disease. While kombucha contains sugar, the fermentation process means that it is consumed by bacteria.
If you're purchasing kombucha make sure to check it doesn't have added sugar.
Foods to strengthen teeth #6: Raw Broccoli
No surprise that broccoli is great for healthy kids. But it's also a great food to strengthen teeth.
Broccoli is full of nutrients such as vitamins K1, C, folate, and chromium. Lack of vitamin C is known to be associated with gum health. This is likely because of its role in boosting the immune system in the mouth.
It's also a great source of dietary fiber, which promotes probiotic in the mouth and prevents tooth decay.
Cooking broccoli may also decrease the nutrient availability. Studies have shown that cooking can damage chemicals in broccoli known to have health benefits.
That's why raw broccoli is so great. It's a fibrous, tough vegetable that needs to be chewed by your kids. The chewing process gets the digestion process started. It also strengthens kids teeth and jaws.
While kids may be a bit picky with broccoli, their teeth will thank you if you persist.
Foods to strengthen teeth #7: Coconut Oil
Coconut oil has received a lot of attention for its ability to strengthen teeth. But coconut oil is a key food for healthy kids.
Rich in medium chain triglycerides or MCT oils. These shorter fats are absorbed quickly in the body, including in children. This means that coconut oil is great for energy boosts and to stop hunger pains in kids.
Coconut oil also has anti-bacterial properties which may help prevent plaque build-up. Overall coconut oil may help to balance the oral microbiome – but further studies are needed.
The beauty of coconut oil to strengthen teeth is its wide range of uses. As a cooking oil, it gives a delicious scent to food. As an ingredient for dessert, it gives a sweet replacement option. There are few foods that mimic sugar and are great for teeth.
Coconut oil is an excellent replacement in the diet for sugary snacks. Every parent knows this is one of the biggest challenges to feed healthy kids.
Foods to strengthen teeth #8: Eggs
Eggs are probably as versatile as they are healthy. They have a broad spectrum of vitamins and minerals that healthy kids need.
A source of fat-soluble vitamins A, D, and K2, they also supply B12, B5 and folate. Other nutrients include zinc, calcium and the antioxidant selenium. It's true that very few foods are as nutritious as eggs.
The source of eggs is important. Eggs from pasture-raised chickens have the key vitamin K2, which is vital to strengthen teeth.
Eggs are great for snacks for kids. Boiled and served cold with a side of veggies. But their versatility means you make quick, fast, cheap and tasty meals.
Best of all, your kids will be healthy and they'll look forward to eggs that can be used for any meal of the day.
Foods to strengthen teeth #9: Sardines
Seafood is rich in vitamins and minerals that are needed to strengthen teeth. Like all other foods though, whole fish have the complete nutrient spectrum. For healthy kids, eating the whole fish makes sure they receive all of these nutrients.
You've heard the health benefits of eating whole foods. Well, this includes meats and fish.
With larger sea creatures and fish, it's harder for kids to eat the bones, flesh, skin and organ meats. But smaller fish, you get all these in one serving. That's why sardines are a great option for your kid's health.
Fish bones are a rich source of calcium. The eyes, organs all supply vitamin A, D, and K2. They also a rich source of omega 3 fatty acids and the full range of other nutrients.
Foods to strengthen teeth #10: Liver pate
Ok, the last one is a bit of a difficult, but it is one of the most important. Organ meats are a superfood packed with vitamins required to grow strong bones, teeth, and joints.
While we don't often eat liver today, traditional societies have always done so. Healthy kids should eat organ meats at least once per week if not more. The problem is that if we don't become accustomed when we're young, we tend to stay away for life.
Liver is one of the most versatile ways to achieve this. Packed with fat-soluble vitamins, liver is a nutrient powerhouse. It's rich in vitamins A, vitamin D, vitamin E, vitamin K2, vitamin B12 and folic acid as well as vitamin C and a range or other minerals.
And it really isn't as bad as it sounds. Liver pate can be used for chicken; duck or goose liver can be a great addition to a cheese platter or as a spread or topping.
Liver pate is flexible, you can make your own at home and use different spices and herbs.
This can help cater to even the fussiest of kids.
Foods for healthy kids and teeth
Your kid's dental health is a product of the foods they eat. While you've heard of the foods that harm teeth, like sweets, soda, and other junk foods. You need to plan what to REPLACE these foods with. Simply removing foods from our kid's diet doesn't teach them how to eat for healthy teeth.
Healthy kids need foods that strengthen teeth. By working these 10 foods into your kid's diet, you will be shaping lifelong eating habits. Healthy kids have taste buds, eating habits and food knowledge that supports their dental health.
Your child will thank you for many years to come with the strong, white and healthy teeth.
Do you have any questions regarding how to feed hungery kids? Leave them in the comments below.
For more information on Dr. Lin's clinical protocol that highlights the steps parents can take to prevent dental problems in their children: Click here.
Want to know more? Dr Steven Lin's book, The Dental Diet, is available to order today. An exploration of ancestral medicine, the human microbiome and epigenetics it's a complete guide to the mouth-body connection. Take the journey and the 40-day delicious food program for life-changing oral and whole health.
Click below to order your copy now:
US AMAZON
US Barnes & Noble
UK AMAZON
Australia BOOKTOPIA
Canada INDIGO