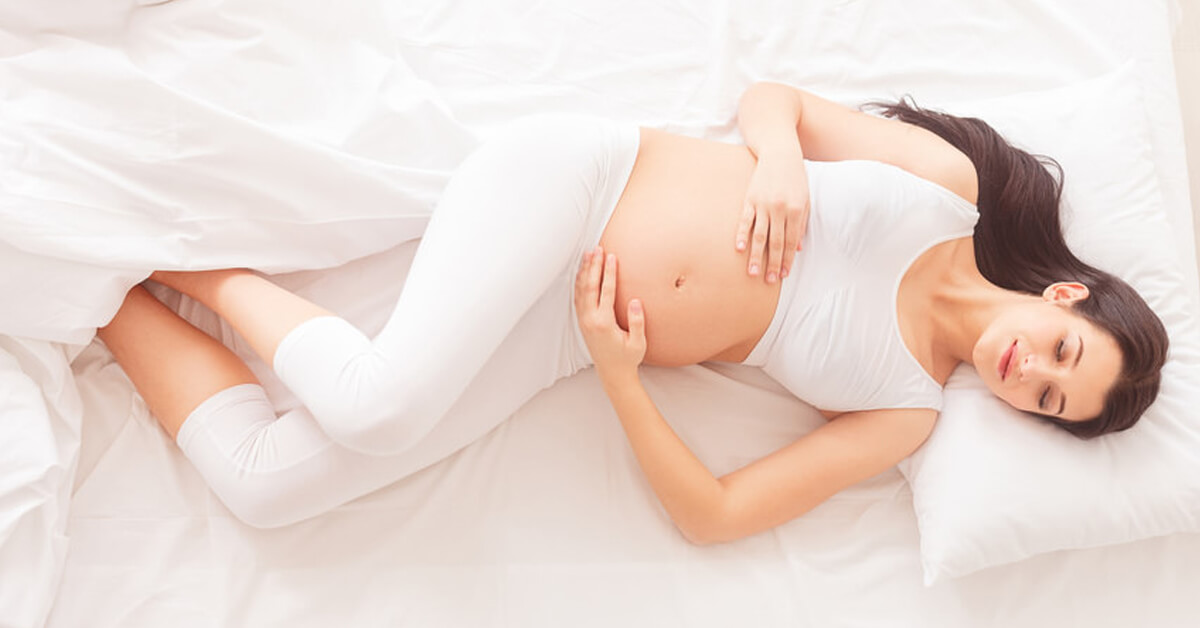 There's something I see in my dental practice often. It's when a mother brings their child in for a dental check-up, they usually have something in common – mothers with small jaws (needed braces) have kids with small jaws too.
Your last trip on an airplane reveals an interesting lesson about pregnancy, breathing and your kid's health.
We're all familiar with the spiel during the safety demo before take-off. When the mask drops, you put the oxygen mask on yourself before your child. The reason for this is simple. You need to breathe properly before you can help others. If you have oxygen deprivation, your kid's health and survival will be at risk regardless if they have a mask or not.
Your child is dependent on your own health.
As a dentist, I often think of the airplane example because the mouth reveals signs of how a mother breathes. And for pregnant women, the problems with oxygen deprivation get worse.
Your risk of suffering from sleep apnea, snoring or teeth grinding increase during pregnancy. And, like on an airplane, a lack of oxygen will affect your unborn child. During sleep, snoring and sleep apnea symptoms further worsen this lack of oxygen. Your breathing health during pregnancy is crucial to your newborn's development.
Oxygen is the most important 'nutrient' that our bodies need. During pregnancy, you're breathing for two. If you're struggling to breathe while sleeping, you're not getting enough oxygen. This can and will lead to lifelong problems for your baby. Complications can range from mild to severe, or even stillbirth.
Every mother wants the best for their kid's health. But your breathing also impacts your kid's dental health. If you're pregnant you need to ensure that you're getting enough oxygen when you breathe and sleep.
In this article, we'll outline how oxygen deprivation during pregnancy is more common than you think, and what you need to do about it.
Snoring during pregnancy – is it common?
Studies have shown that during pregnancy your risk of snoring increases. The biggest increase occurs during the third trimester. The change in weight and pressure on your organs decrease space for breathing and result in snoring. As the extra weight encroaches on your throat, voice box and chest and narrows her airways.
A narrow airway means lack of oxygen. This is associated with pre-eclampsia which is unusually high blood pressure during pregnancy. A condition that can cause problems for both a mother and their unborn child.
While snoring during pregnancy is quite common, it should not be overlooked or ignored. Although it's common, it should be considered as dangerous.
Smoking causes a lack of oxygen during pregnancy– so does snoring
Doctors have long known that women who smoke during pregnancy risk of having smaller babies. It makes sense – smoking deprives your body of oxygen. Today, most pregnant women are aware of the harm smoking can do to their child. But you probably haven't realised how dangerous snoring can be. If you are pregnant and you snore, you should get checked for a sleep disorder right away. It can have similar effects on your unborn baby as smoking.
If you wouldn't smoke during pregnancy, you shouldn't leave snoring and mouth breathing untreated either.
Snoring in pregnancy can seriously harm your kids' health
Lack of oxygen during pregnancy tells your baby to adjust to a low oxygen environment.
You may have noticed that you began snoring during pregnancy. Snoring deprives your own brain and body of oxygen. It, therefore, makes sense that snoring has a negative effect on a fetus.
Research shows that snoring in pregnancy is related to birth defects. In more severe terms, a lack of oxygen can result in growth retardation of the fetus. Babies born to mothers who snore are generally at risk of low birth weight as well as other life-long problems. Snoring and sleep disorders are also associated with high blood pressure in pregnant women.
Your kids' dental health can also be negatively affected. An underdeveloped child will likely also have a small, underdeveloped jaw. In fact, many different developmental and physical problems can be caused by a lack of oxygen. The time in utero is one of the most important phases of your child's life. Do not risk depriving your baby of oxygen.
Mouthbreathing – something to worry about?
Snoring is not the only cause for concern. In fact, mouth breathing during the day or sleeping with mouth open is a sign that you are not getting enough oxygen. Breathing through your nose is the most efficient way to breathe. It delivers oxygen to the lungs due by releasing nitric oxide in the nasal sinuses.
If you are breathing through your mouth, your lungs are provided with less oxygen. Pregnant women should be aware of whether they are breathing through their mouths or their noses.
Sleep apnea symptoms in pregnancy
If your snore during pregnancy, it may be as serious as sleep apnea. Snoring doesn't necessarily mean you have sleep apnea, but it's closely related.
Sleep apnea is a sleeping disorder where breathing stops during sleeping. Usually, this is just for a few seconds but can last even longer. It can be very frightening for those around the sleeping person. Sleep apnea causes exhaustion. It prevents you from getting a restful, growth inducing sleep.
As the risk of sleep apnea symptoms increase in pregnancy, it may be the first time you have ever dealt with the problem. You may begin to snore loudly, and then seem to stop breathing. This pause in breathing will usually be followed by a choking sound.
Sleep apnea is linked to serious health problems such as brain and heart disease. But the risks of pregnancy complications such as preeclampsia and gestational diabetes also increase.
Snoring, sleep apnea symptoms and your kid's dental health
In my dental practice, when I see parents with small jaws, their kids have small jaws too.
Children born to women with sleep apnea are more likely to suffer from low birth weight. Smaller jaws mean crooked teeth, smaller airways, and future sleep disorders.
Maternal snoring can cause growth retardation, and this can affect the growth of the jaw. A small jaw means a smaller airway. Small jaws predispose your kid to sleep apnea as well. Small jaws also cause crowded teeth and a poor bite.
Sleep apnea symptoms during pregnancy may predispose your kid for a lifetime of oxygen deprivation from poor breathing.
If you suffer from snoring, contact your doctor and/or your dentist today. They will help you learn more about what you can do to stop snoring tonight.
What can I do if my child has small jawbones?
If your infant already has already developed small jawbones, it is not too late. You can take measures that will help them as they grow. These things are key for your child's dental health.
Some of the things you can try include:
Breastfeeding infants in order to develop their palate and tongue function
Enrolling them in myofunctional therapy to improve their breathing and tongue function
Having your child assessed for airway orthodontics, in order to develop the palate and jaw
These measures will improve your kid's dental health. They will also decrease the chances of them snoring later in life. Lowering their risk for snoring and sleep apnea is one of the best things that you can do for their health.
Break the cycle of snoring being passed down through the generations. Consult with your dentist today to learn about all you can do to prevent snoring in your own child.
What can I do to stop my snoring and sleep apnea symptoms in pregnancy?
If you are suffering from snoring and sleep apnea in pregnancy, it is time to seek help. Every additional night that you ignore this problem, you might be harming your child. Your snoring can cause link to lifelong problems that stretch into adulthood – it is time to take action.
Try these simple home remedies to stop snoring:
Try a sticky nasal strip. These are completely drug-free and available at most chemists. They work by opening the nasal passageways and encouraging you to breathe through your nose.
Try to sleep on your left side to allow better breathing. If you can't sleep, a pillow between your knees might help.
Elevate your head and neck with pillows in order to open your airways.
Try using a warm air humidifier to clear any blocked sinuses.
Exercise during the day in order to have a deeper, more restful sleep.
Avoid all tobacco and alcohol (something pregnant women are advised to do no matter what).
Take up yoga to teach deep, nasal, diaphragmatic breathing
Your breathing during pregnancy can lead to future dental health problems in your kid. Remember that oxygen is the number one nutrient in your body. Poor breathing, snoring and sleep apnea all cause oxygen deprivation for your child.
If you are a woman suffering from sleep apnea or snoring in pregnancy, the time to act is now.
Make an appointment with your physician or dentist today. For more information on breathing, kid's dental health and teeth why not follow and subscribe. Share this article today with your friends and family.
Have you experienced snoring and sleep apnea symptoms during pregnancy? Tell us about your experience in the comments section.
For more information on Dr. Lin's clinical protocol that highlights the steps parents can take to prevent dental problems in their children: Click here.
Want to know more? Dr Steven Lin's book, The Dental Diet, is available to order today. An exploration of ancestral medicine, the human microbiome and epigenetics it's a complete guide to the mouth-body connection. Take the journey and the 40-day delicious food program for life-changing oral and whole health.
Click below to order your copy now:
US AMAZON
US Barnes & Noble
UK AMAZON
Australia BOOKTOPIA
Canada INDIGO