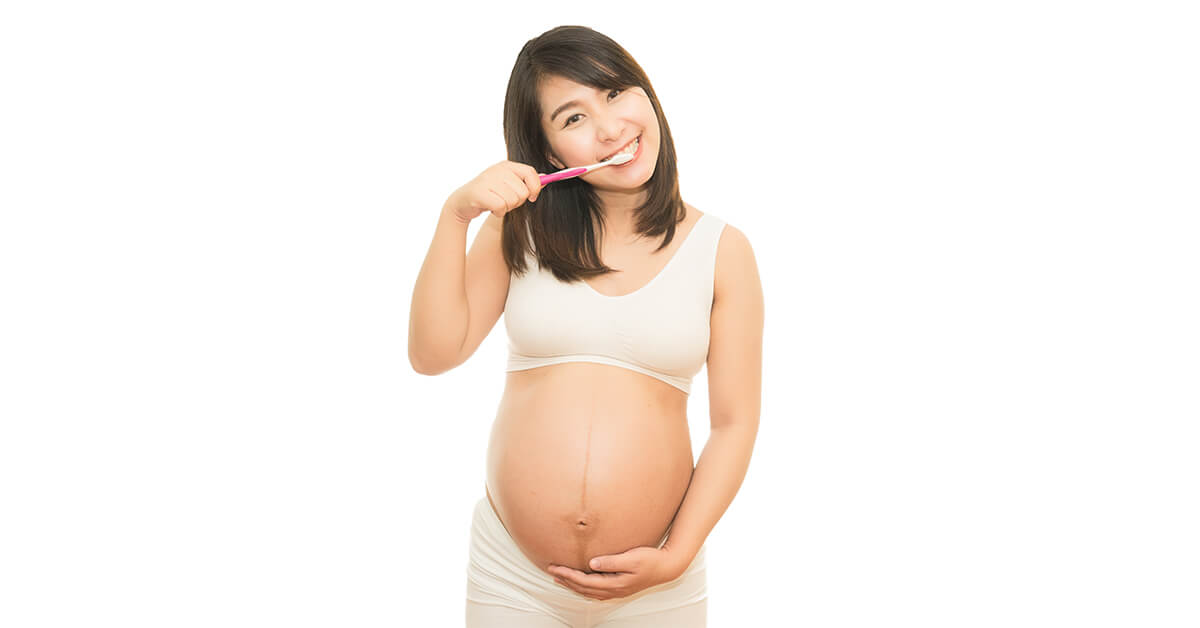 There are three certainties in life. Death, taxes and bleeding gums during pregnancy. If you're pregnant, you've seen the bleeding gums in your bathroom mirror.
A big problem, (as you already know) is that pregnancy is a busy time. Like most other times, dental check-ups often get pushed to the bottom of priority list. I see this a lot in dental practice. Busy mothers attend because they have tooth pain, or they have sore, bleeding gums.
What you may not realize is that your oral microbiome passes to your newborn child. Your kid's dental health is influenced by your bleeding gums during pregnancy!
Bleeding gums are explained by shifts in the oral microbiome during pregnancy. But they are also the starting point of a host of changes to your entire gut microbiome. Oral and gut bacteria all play a large role in readying your body for pregnancy.
Imbalances in the oral flora cause dental problems such as cavities and gum disease. Gum disease and oral candida are both common problems during pregnancy. But these problems aren't confined to the oral flora. They also influence your gut microbiome. For example, oral probiotics may be beneficial for a healthy pregnancy.
Your gums are one of the best signs of a healthy pregnancy. To understand kid's health, we need to get to know the normal flora of the mouth. Your oral flora shapes your child's oral and gut microbiome.
And your kid's dental health starts with your mouth, even before pregnancy begins!
Your oral microbiome manages your teeth and gums
Tooth decay and bleeding gums that make us go to the dentist are both caused by your oral flora. For a long time, these conditions were considered 'infections' by harmful microbiota. Now we know that the oral microbiome is involved in the health of your teeth.
The normal flora of the mouth is a diverse natural system with many different species. These live in your mouth in health, are friendly with each other. That means that different species depend on each other. They also help each other to stop diseases like cavities. In tooth decay, for example, step mutans is inhibited by probiotic oral bacteria.
When you lose the probiotic balance in your oral microbiome, that's when things go wrong.
Pregnancy changes your oral microbiome
Shifts in sex hormones during pregnancy have a direct influence on your mouth. Saliva levels of estrogen and progesterone both increase in pregnancy. They change the blood flow in your gums as well the collagen cycle. They also shift the normal flora of the mouth.
During pregnancy, certain bacteria are higher than those of the non-pregnant women. These changes occur early in pregnancy. It suggests shifts in sex hormones influence oral microbiome changes.
Bleeding gums and signs of a healthy pregnancy
Gum disease during pregnancy is related to many health problems. Research has suggested a link between gum disease and pregnancy complications. These include low-birth weight, pre-term birth, and pregnancy eclampsia. However, the evidence isn't yet conclusive. Studies haven't confirmed that periodontal treatment can prevent these pregnancy complications.
Bleeding gums is an immune response to the oral flora. In the healthy oral cavity, your immune system monitors gums for harmful microbes. Bleeding gums signify the body is increasing blood flow to recruit immune cells. It's a state of inflammation. If it occurs over the long-term, it progresses to gum disease.
Gum disease is the break-down of your gums after chronic bleeding gums.
Your gums are made up of the collagen which also makes up your joints. Estrogen and progesterone are involved in the balance of collagen in your body. Estrogen promotes collagen formation. Progesterone drives its break-down. Both are required to repair and maintain healthy gums.
Pregnancy increases your risk for bleeding gums to progress to gum disease. It's a balance between oral flora, sex hormones, and the immune response. Healthy gums are one of your best signs of a healthy pregnancy.
How your oral microbiome changes during pregnancy
Periodontal treatment is not proven to be effective in preventing pregnancy complications. So should you not worry about bleeding gums at all during pregnancy?
We know the normal flora of the mouth changes in pregnancy. Gum disease is caused by a nasty group of oral flora (gram-negative bacilli). This group of bacteria thrives in the absence of oxygen.
Studies of the pregnancy oral microbiome are still in early stages. Pregnancy creates both hormonal and immune changes that increase the risk of gum disease.
As soon as pregnancy has commenced, levels of sex hormones shift in your body. Studies are beginning to show how sex hormones increase the growth of the oral flora. These include several species such as Lactobacillus, Bifidobacterium, Streptococcus and Escherichia coli.
P.gingivalis is an oral species linked to bleeding gums. Studies show pregnant woman have an increase in P.gingivalis in their mouths.
Several studies have also shown that other species like A. actinomycetemcomitans also increase.
In preterm births, periodontal pathogens were found to be higher including P.gingivalis. Weak immune IgG response was also thought to be responsible. Either the immune system of pregnancy or the impact of sex hormones may be crucial.
Changes to the normal flora of the mouth may predict bleeding gums and risk of periodontal disease.
Across all trimesters of pregnancies, bacteria that cause oral disease are more prevalent. Which species exactly? More studies are needed.
Oral Candida and thrush during pregnancy
The healthy oral microbiome also includes fungal species. Candida (C.albicans) is the most well-known oral fungus species linked with oral thrush. Candida is a common infection in the vaginal microbiome. Estrogen influences the risk of infection of candida in vaginitis. Candida infection may also increase the risk of pre-term birth.
Both C. Albicans and S. Aureus are well known as opportunistic microorganisms. They cause oral thrush in women in menopause.
Candida levels are higher during middle and late pregnancy compared to non-pregnant women.
Immune system changes during pregnancy is also a factor in candida infection. Oral thrush is a common infection in the elderly and immune deficient. Oral thrush may also indicate a higher risk for gum disease.
How to maintain the normal flora of the mouth during pregnancy
Your gums are one of the best signs of a healthy pregnancy. Sex hormones cause shifts in your oral microbiome. These may result in bleeding gums and can put may put your unborn kid's health at risk. A healthy microbiome passes to your child and influences their dental health.
Three signs of oral microbiome imbalance are:
Bleeding gums
Gum disease
Oral Thrush
If you experience any of these conditions, you should:
Change your diet to improve your oral health. Get started today with my free EBook: 4 Steps For Healthier Teeth
See your dentist for an oral exam.
Consider taking an oral probiotic: Read more here
Read on for Part 6 The Breast Milk Microbiome – Shaping Your Kid's Gut Health
Now we want to hear from you. Please leave your questions in the comments below.
For more information on Dr. Lin's clinical protocol that highlights the steps parents can take to prevent dental problems in their children: Click here.
Want to know more? Dr Steven Lin's book, The Dental Diet, is available to order today. An exploration of ancestral medicine, the human microbiome and epigenetics it's a complete guide to the mouth-body connection. Take the journey and the 40-day delicious food program for life-changing oral and whole health.
Click below to order your copy now:
US AMAZON
US Barnes & Noble
UK AMAZON
Australia BOOKTOPIA
Canada INDIGO