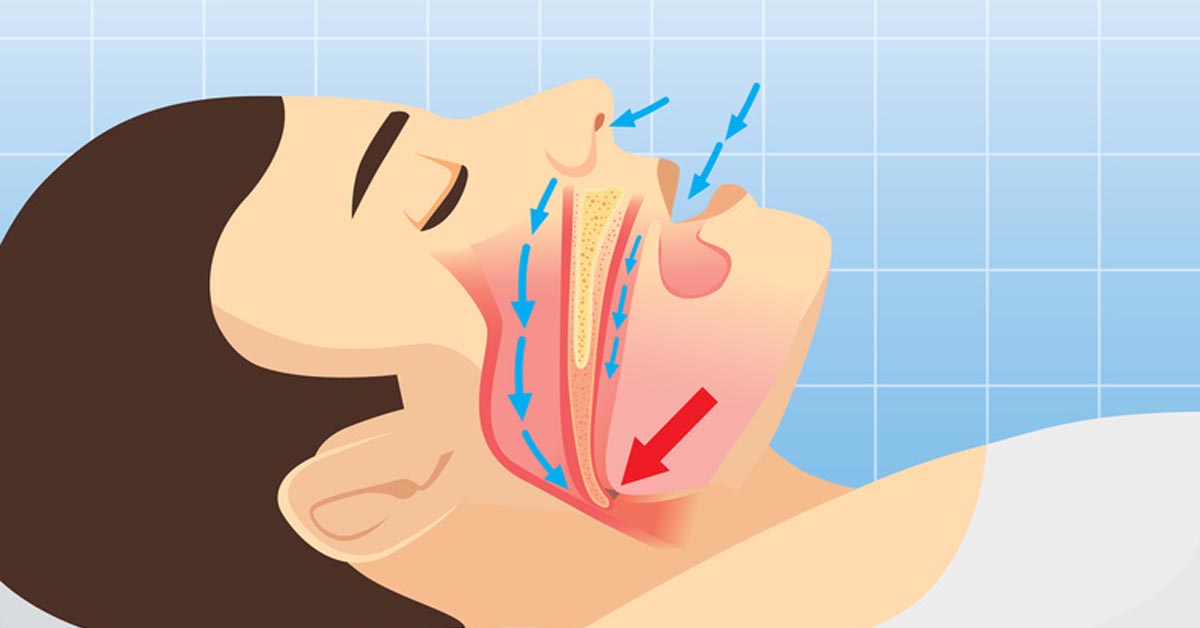 As a dentist that focuses on nutrition, I believe the nutrients your body needs are dictated by oral health.
I make sure to tell every patient about the MOST important nutrient they need for healthy teeth and a healthy body. When I look at someone's teeth, I can usually tell whether they're getting enough of this vital nutrient.
So, is this nutrient a vitamin? A mineral?
No. It's oxygen.
Oxygen is a vital nutrient for healthy teeth and a healthy body.
When you hear 'nutrient', you probably don't consider oxygen. Yet oxygen is by far your body's most precious commodity. You simply can't live without it!
Yet many of us do live without enough of it. And that's all down to our breathing habits.
The primary way to see whether you're breathing properly is to check if you're breathing through your nasal passage or mouth. Nasal breathing is the way to deliver the maximum amount of oxygen. Let's look at the signs of mouth breathing revealed by your teeth and dental health.
Is it bad to breathe out of your mouth?
Mouth breathing can be related to and caused by:
A long narrow face
A narrow mouth
A high palate
Crooked teeth (upper or lower)
A gummy smile
A tongue-tie
Other signs of mouth breathing
A blocked sinus
Swollen tonsils & adenoids
A dry mouth in the morning
Sleeping with your mouth open
Snoring
Why is respiration through the mouth harmful?
Your nasal passages are sinuses designed to prepare air for delivery to your lungs. They act as a humidifier, warming and moistening the air. They also remove debris and act as a first-line of defense against unfriendly microbes.
One of the most important ways that nasal breathing helps oxygen flow is via a gas called nitric oxide(NO). The role of nitric oxide in the body and respiration was only recently identified.
Nitric oxide is produced in the nasal sinuses by specific enzymes. It's instrumental in delivering oxygen around the body efficiently because it regulates blood flow. When it mixes with air delivered to the lung, it increases arterial oxygen tension and reduces blood pressure.
Nitric oxide also has a vital role deep within your body's cells. There, it influences platelet function, immunity and the nervous system. It's also important in homeostasis and the regulation of mitochondrial function. It's produced elsewhere in the body but the biggest contributor is the minute amounts inhaled through the nose into the lungs.
Mouth breathing, however, delivers no nitric oxide. It also provides none of the air-warming and humidifying properties of nasal breathing. In humans, it's really just a survival mechanism, to be used when the nasal breathing is impossible.
How can I stop breathing through my mouth?
Your tongue is a surprisingly good indicator of your breathing health. Proper tongue posture is crucial for palate and jaw growth and straight teeth, but it also holds your airway open.
Proper tongue posture contributes to oxygen delivery and straight teeth in many ways. These include:
allowing nasal breathing to expand the maxilla
applying direct upward pressure to expand the palate
opening airways (due to its muscle connections to the soft palate, spine, and base of the skull)
activating the neuromuscular pathways that train the airway to stay open during sleep
One of the surest signs of mouth breathing is low tongue posture. The tongue is kept in a low, downward position that opens up breathing space in the mouth. Normally, the tongue should sit high against the palate to seal the oral cavity.
Low tongue posture can result in further functional problems like an incorrect swallow. The result? An imbalanced force on the teeth that can contribute to them growing crooked. In the long term, it can cause improper jaw growth and facial development.
Why is respiration through the mouth harmful?
High palates, long skinny faces and impacted teeth all begin with a mouth breathing habit. They are signs of a tongue that is not supporting the airway. Improper dental and jaw structures increase the risk of snoring and sleep apnea.
Mouth breathing and interrupted breathing during sleep is not good for any of us. In adults, mouth breathing, snoring and sleep apnea can progress to obstructive sleep apnea. It's a condition linked to heart failure, high blood pressure and Alzheimer's disease.
In children, interrupted breathing during sleep can have severe effects on brain growth. Their brain needs uninterrupted periods of oxygen-rich sleep to rest and regenerate. Oxygen deprivation damages this process. Sleep apnea in children is known to increase risk of hyperactivity, ADHD, tiredness, and poor concentration.
The warning signs of mouth breathing show up in the first months of life. Making sure a child breathes the right way is one of the best ways to ensure their brain, jaw and teeth develop properly. It could be all that's required to prevent your child needing braces.
Correct breathing in yourself and your child
Remember: Correct breathing is one of the biggest influences for you and your child's dental health.
The easiest way to assess your child's dental arch development is to check if they usually have an open mouth.
The underlying causes for mouth breathing include:
Nasal obstruction
Poor jaw development
Poor tongue posture
Orofacial imbalance
The good news is that if the problem is identified early on, a child can be retrained to breathe correctly through their nose. This has great benefits for their development, general health and their teeth. It's a simple way to prevent braces naturally!
Have you noticed mouth breathing or sleeping with your mouth open? Leave your questions in the comments below.
For more information on Dr. Lin's clinical protocol that highlights the steps parents can take to prevent dental problems in their children: Click here.
Want to know more? Dr Steven Lin's book, The Dental Diet, is available to order today. An exploration of ancestral medicine, the human microbiome and epigenetics it's a complete guide to the mouth-body connection. Take the journey and the 40-day delicious food program for life-changing oral and whole health.
Click below to order your copy now:
US AMAZON
US Barnes & Noble
UK AMAZON
Australia BOOKTOPIA
Canada INDIGO