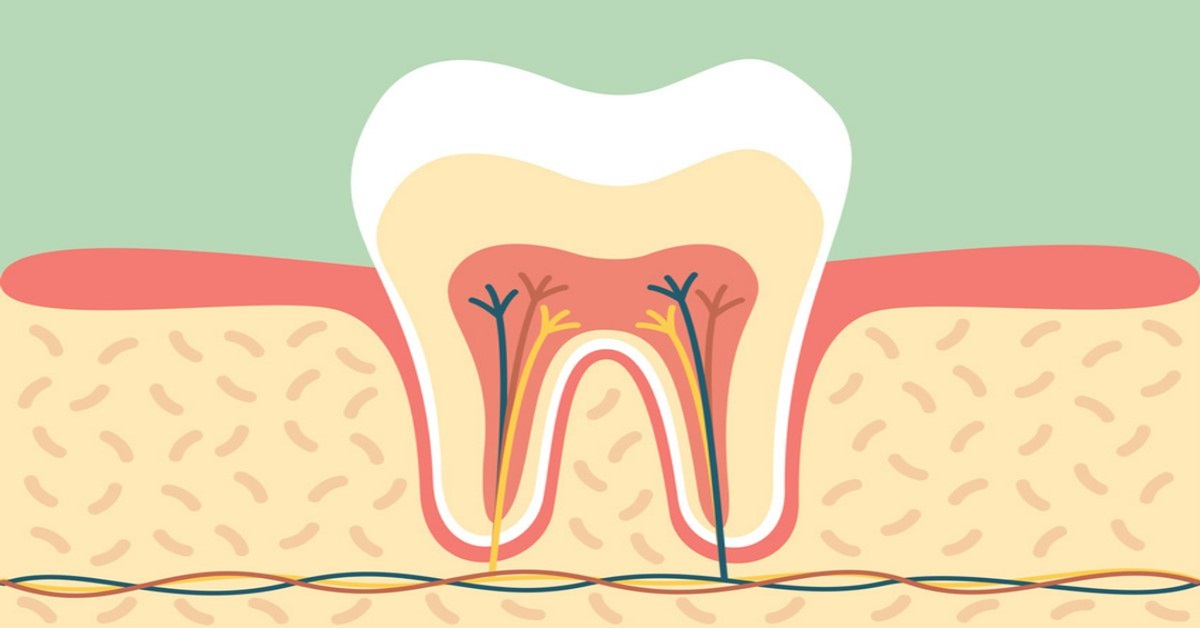 Part 2a: Why Vitamin K2 Can Prevent Root Canal Treatment
To understand Vitamin K2's dental benefits fully, we're going to take a trip through the body. It begins inside your teeth, in the dental pulp – the area where our tooth ache often originates. Pulpitis, or dental pulp infections, are why you need to have a root canal treatment on your tooth.
As a dentist who focuses on nutrition, one thing about dental practice that bothered me were tooth aches. Dental school teaches dentists that toothaches occur in such a way that we can't intervene to help.
This is true in a sense, but only in the most severe cases of toothache, which are usually caused by very advanced dental caries.
Dentists are trained to think in this sequence:
Dental disease -> Reversible pulpitis -> Irreversible pulpitis -> Root canal treatment or tooth extraction
Toothaches are one of the most common reasons for emergency dental appointments. If you've experienced tooth pain, you know it's a not a nice experience.
The concern with many toothaches is that they signal infection in the pulp of the tooth. If you do experience tooth pain, it MAY be a sign you may need root canal treatment or tooth extraction.
When you go to a dentist for an emergency dental appointment, your dentist will investigate the cause. But one big mistake that dental medicine makes is that it doesn't account for the body's ability to heal a tooth ache.
Depending on the cause of the ache, they may offer you one of the following options:
Wait and see how the symptoms develop
Perform a dental restoration or filling
Begin root canal treatment
Extract the tooth and replace
If you have dental caries, then you will often need a restoration. For those who have had dental treatment such as a filling or a crown, toothache or pain is very common. Once the disease process reaches to a certain depth, you may need a dental restoration. But you need to understand how to heal your body to prevent possible root canal treatment.
In this article we're going to help you to understand how Vitamin K2 and toothaches are connected. How to heal and even cure toothache naturally and also to potentially prevent root canal treatment.
What is a pulpitis?

Inside each of your teeth is a dental pulp. It consists of the tooth's blood and nerve supply. The pulp is responsible for the sensations of your teeth. It also relays information from the tooth, right back to your brain.
Pulpitis is inflammation of the dental pulp. It occurs due to dental caries, trauma, or dental restorations. The most common cause is dental caries where bacterial infection infiltrates the dentin and pulp of the tooth.
Pulpitis is often felt as a tooth pain that comes and goes. You may feel it as a throbbing tooth pain at night, in the day, or when your tooth encounters something hot or cold.
If you have a tooth pain or throbbing tooth, a dentist will classify it as one of the two types of pulpitis.
1.- Reversible pulpitis
A reversible pulpitis is a toothache where treatment or monitoring will mean the pulp doesn't need treatment.
Reversible pulpitis symptoms and signs:
Shallow dental caries and a dental filling
Sensitivity to cold, and a
Tooth pain that comes and goes.
Tooth pain that comes and goes every few months
This is the good type of pulpitis because your tooth remains healthy with no, or minor, dental treatment required. The blood and nerve supply stay alive and your tooth pain eventually stops.
2.- Irreversible pulpitis
This is where the pulpitis and its sequelae require endodontic (root canal) therapy or tooth extraction. The tooth goes through a 'dying' or inflammatory process and the tooth becomes non-vital.
Irreversible pulpitis symptoms and signs:
Toothache that makes your jaw hurt or radiates to your face and neck
Toothache at night
Tooth pain when consuming hot drinks and food
Throbbing, deep pain
Pain on biting
Pain when you put pressure on the tooth
Swelling, draining sinus or abscess above the tooth
Throbbing tooth pain that comes and goes
Deep dental caries close to the pulp or dental nerve
Situations where pulpitis can occur:
After a dental filling
After a crown
There are two ways to categorize pulpitis: Acute or Chronic; Reversible or Irreversible.
Acute pulpitis
Chronic pulpitis
Usually found in teeth of children and adolescents
Found in adults
More noticeable pain; constant throbbing pain often made worse by lying down, swelling of gum and/or face
Less noticeable pain
Acute sensitivity to hot/cold
Change in color of the tooth
Purulent acute pulpitis: complete inflammation of tooth;

Gangrenous acute pulpitis: pulp dies in less painful manner leading to formation of abscess at the tip of the tooth root.
http://cariology.wikifoundry.com/page/Pulpo-dentinal+Changes+due+to+Caries
| | |
| --- | --- |
| Reversible pulpitis | Irreversible pulpitis |
| Caused by caries encroaching on pulp | Caused by progression of reversible pulpitis |
| Mild inflammation | Severe inflammation |
| Does not have to be treated; heals over time | Treated via root canal treatment or tooth extraction |
Table 2: Comparison between Reversible Pulpitis and Irreversible Pulpitis
Pain medicine, pulpitis and antibiotics

The most common treatment of pulpitis is a course of antibiotics.
Antibiotics for a tooth ache may take the symptoms away, but they do not treat the cause of pulpitis, so I would recommend avoiding them if you can, because they're only a band aid solution.
How to heal a pulpitis naturally: Fat-soluble Vitamins and your teeth

An irreversible pulpitis occurs when the inflammatory response kills the nerve and blood supply to the tooth. So if you have an irreversible pulpitis, the blood supply to your tooth is lost and the natural healing capabilities we are about to discuss are gone.
But if you have a reversible pulpitis, tooth decay or need a dental filling, you can prevent irreversible pulpitis and root canal treatment.
The recovery time between the time you experience a pulpitis will depend on your body's healing process.
Vitamin K2 to cure tooth ache and heal the dental pulp

Inside each of your teeth is a blood supply that carries a specific set of defense mechanisms.
Osteocalcin is a Vitamin K2 dependent protein that helps mineralize teeth and bone. It's a reparative molecule expressed in response to injury of the dental pulp.
Inside an inflamed dental pulp, inflammatory mediators were found to be related to this expression especially in the reversible stages of pulpal inflammation. Osteocalcin seems to release factors that increase blood supply and decreases inflammatory factors associated with deep cavities.
Studies have shown that levels of osteocalcin are higher in reversible pulpitis than irreversible pulpitis. This means that if your body's defense systems are working, you can heal a pulpitis.
Vitamin D, Vitamin K2 (and Vitamin A) for healing teeth naturally

Research shows that Vitamin D can increase serum osteocalcin levels. If your tooth has a blood supply, adequate Vitamin D and osteocalcin helps it to boost its immune response.
But Vitamin D alone isn't enough. Osteocalcin also requires Vitamin A and is activated by Vitamin K2.
Therefore, if you have tooth decay, need a dental restoration or dental crown, you should always go through the protocol below. It may also relieve and cure tooth and mouth pain. 
Supplement program to Vitamin K2 to cure tooth ache and decrease risk of root canal treatment

If you suffer from a tooth pain or toothache, or require a dental filling; you should take the following steps:
Then:
If your levels are below 40ng/ml or 100nmol/L:
Supplement 5000 – 10,000IU dosage of Vitamin D3 (consult with your GP regarding Vitamin D levels and your specific dosage, and check safety recommendations).
In the long term, you should get Vitamin K2 through your diet, but you may need a supplement to boost your activated osteocalcin inside your dental pulp.
Supplement a minimum of 200mcg of Vitamin K2 MK4 and MK7 per day (always consult your GP before taking Vitamin K2 supplements with anticoagulants such as warfarin).
Emu Oil – I recommend Walkabout Emu Oil as one of the richest sources of Vitamin K2 MK-4.
Vitamin A
Natural sources of these fat-soluble Vitamins (including preformed Vitamin A):
300mg Magnesium citrate or glycinate supplement or Wake Up Maggie is a great mix of magnesium types.
Long term diet change for healthy teeth

If you have a diet rich in fat-soluble Vitamins, balance your microbiome and send healthy epigenetic messages, your body can defend against all dental disease. The principles of nutrition and dental health means that your body has everything it needs.
The Dental Diet is your guide to prevent root canal treatment naturally through delicious food.
In the next article, we'll move to the dentin and the immune system that protects your teeth from tooth decay.
Want to know more? Dr Steven Lin's book, The Dental Diet, is available to order today. An exploration of ancestral medicine, the human microbiome and epigenetics it's a complete guide to the mouth-body connection. Take the journey and the 40-day delicious food program for life-changing oral and whole health.
Click below to order your copy now:
US AMAZON
US Barnes & Noble
UK AMAZON
Australia BOOKTOPIA
Canada INDIGO
References: 
Now we want to hear from you. Please leave your questions in the comments below.
For more information on Dr. Lin's clinical protocol that highlights the steps parents can take to prevent dental problems in their children: Click here.